Recently I was thinking about the cost of daylilies.
No, this is not about money.  Maybe you even got your daylilies as pass along plants, like the ones I got from my friend, Barb.
I knew I needed to tend to the daylilies on the hill.  Daylilies are easy, but they don't necessarily thrive on neglect.  My attention was on other projects, as our daylilies on the hill were slowly drying out and turning brown.  I noticed the one from Barb dropping some of the buds.  This is totally unacceptable in the daylily world. I've waited months to see this plant bloom for the first time.
So, the next early morning found me carefully tending to each clump.  I watered, weeded, and trimmed brown leaves to the tune of mosquito whining in my ears.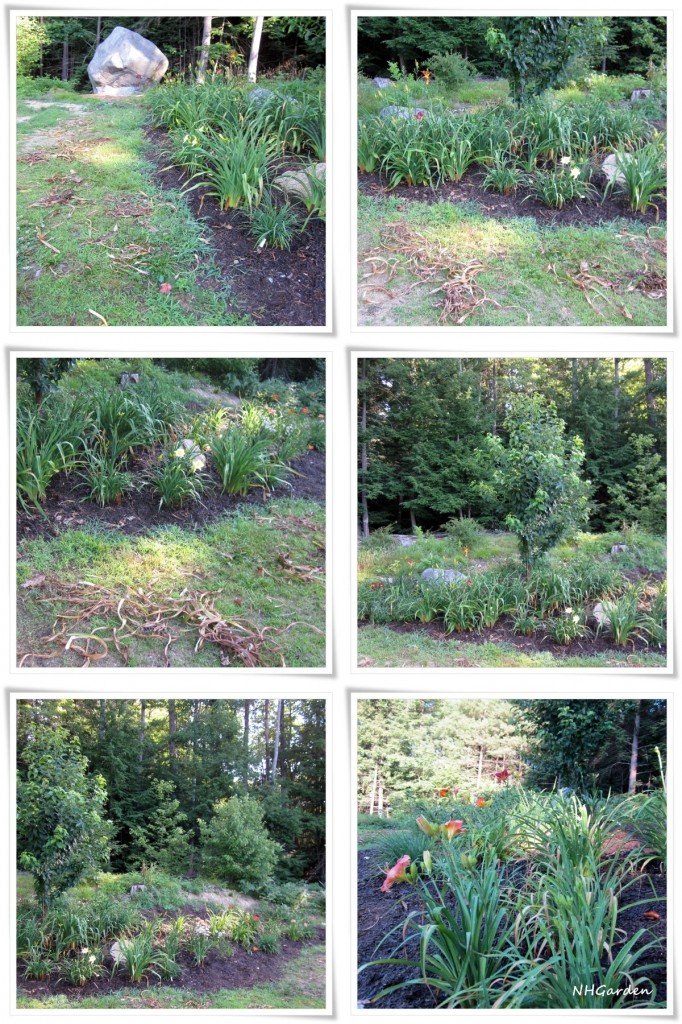 You must be gentle when moving through the daylilies, or you may hear the crisp 'snap' of a scape as it breaks. When this happens I think I want to cry…but I don't.  And it didn't happen this morning, although I did damage a Red Ribbons petal.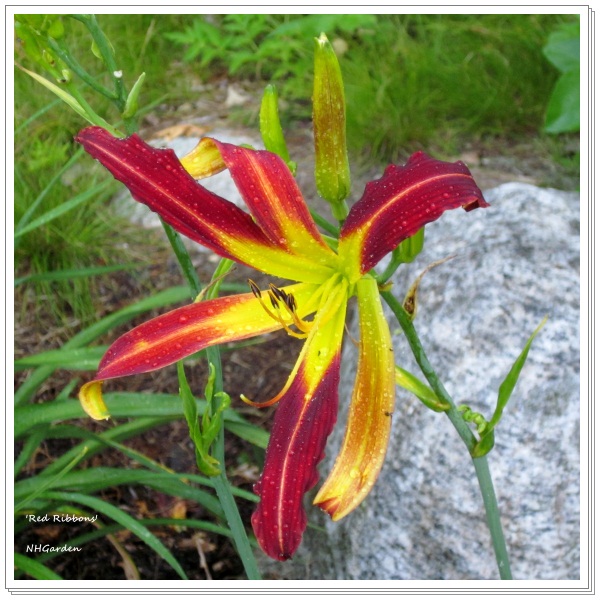 The next morning, I was startled to see one of our night crew still busy at work on the hill.  We have an unspoken agreement where they till our gardens and remove grubs in exchange for room and board somewhere on the property.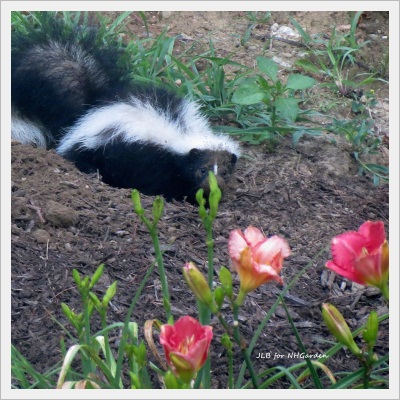 Deadheading is an optional light chore and one I don't mind doing.  It brings me close up to enjoy today's new flowers as I snip yesterday's.  If you are a newbie and can't tell the difference between the old flower and the new bud, just wait until the old blooms get ugly. I've learned to be careful not to chop off the fresh buds along with the old flowers.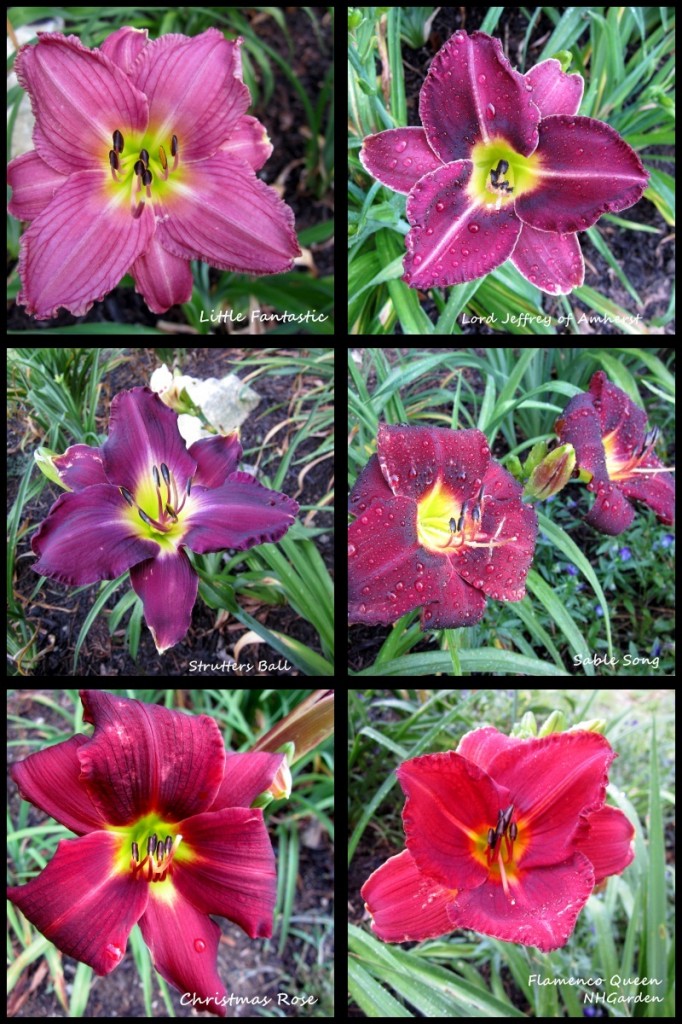 While daylily blooms last only a day, it seems there are always new surprises opening up.
Daylily Hill, as we call it, is coming alive, waking up more and more each morning.
And now I'm waking up to daylilies.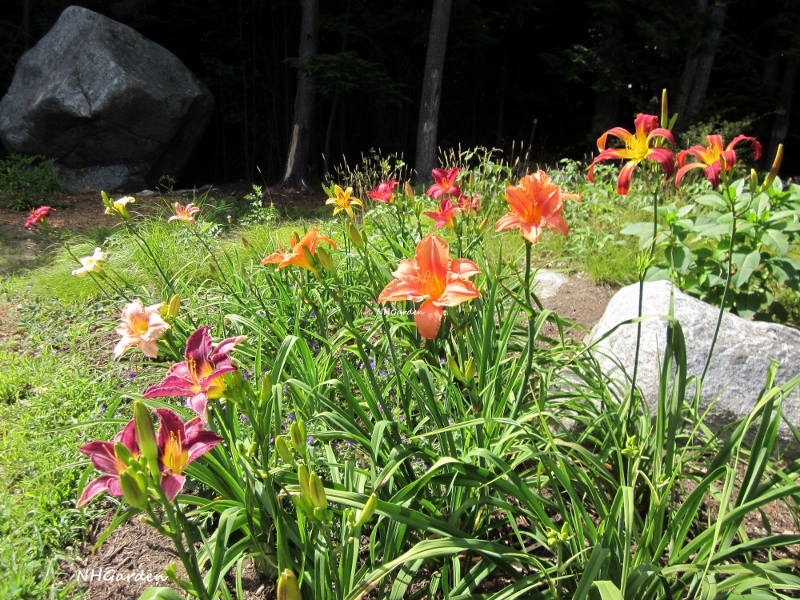 So another fine morning I gazed out the window and spied a daylily I didn't recognize and wondered…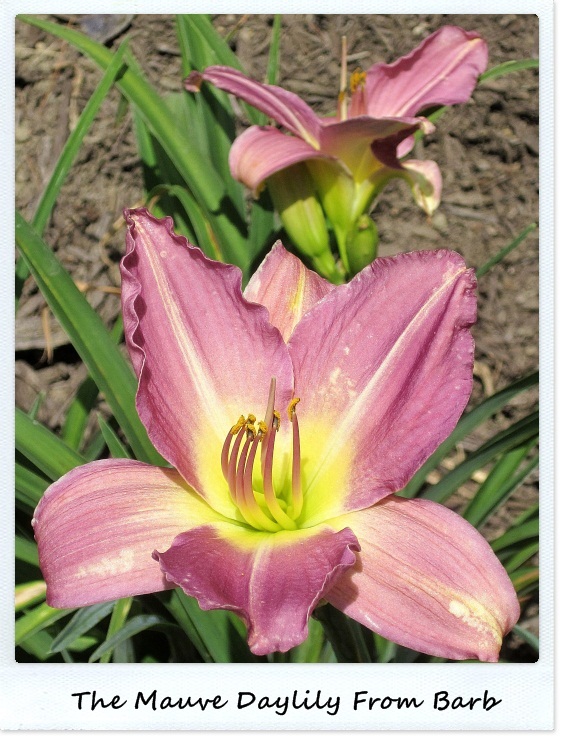 Ah yes, that's the daylily from Barb.
Priceless.
My other daylily posts:
 My Daylily Collection , Daylily Math , Daylily Lessons , It's All Over Imagine Daylilies , Daylily Fans , That's the Beauty of Daylilies
I am linking up with Mary from Little Red House for Mosaic Monday.
This entry was posted on Monday, July 9th, 2012 at 11:42 PM and is filed under
Daylilies
,
Observations
,
Perennials
,
Thoughts
. You can follow any responses to this entry through the
RSS 2.0
feed. Both comments and pings are currently closed.