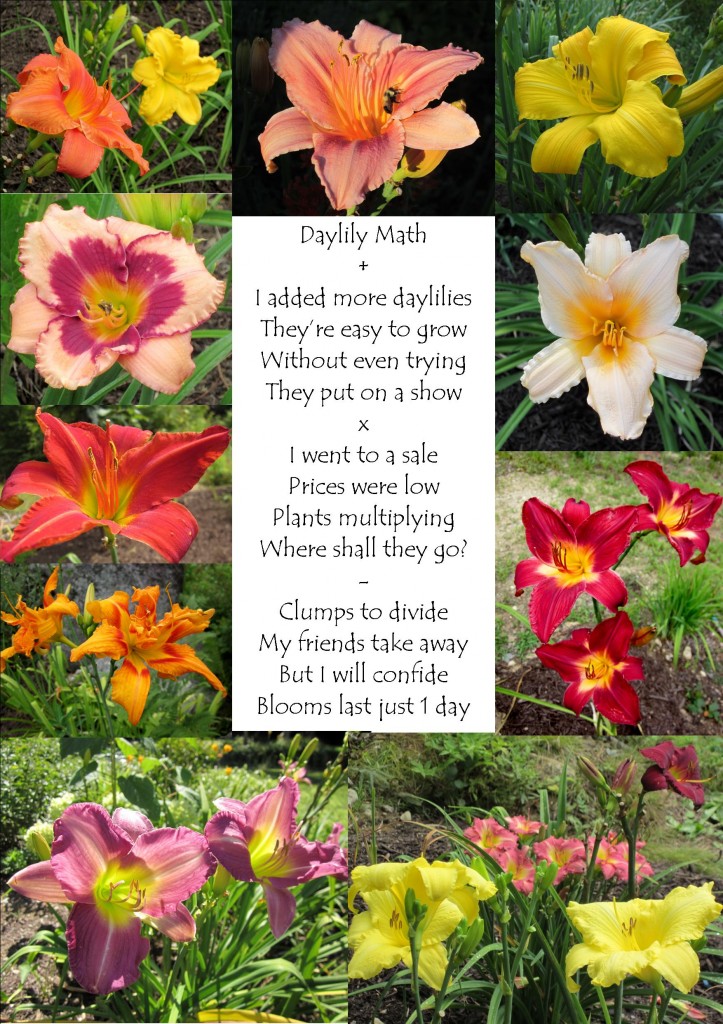 I have linked to Mary at The Little Red House.  She hosts Mosaic Monday. 
http://dearlittleredhouse.blogspot.com/2011/09/mosaic-monday-palace-of-fine-arts.html
8 Comments
That's funny, Chris, and your shots are beautiful, as always! Do you ever visit the Gardenweb Forums? There was a fun thread on the rose forum a long time ago about counting roses. I bet a lot of the rose counting criteria could be used for DLs, too. For example, roses (daylilies) received as gifts don't count. Roses (daylilies) growing in pots don't count, either.

The end of it was something like "See? You didn't have as many as you thought! Go buy some more!" It cracked me up!

What a rainbow of beautiful lilies! I have two colors, and the clumps get bigger and bigger. (I tried to move a clump once but it had other ideas and it's still there.)

Love your math! You have some beautiful daylilies. I've only had one and I managed to kill it despite their reputation for hardiness, so I'm rather wary of them now!

I have been wanting to add daylilies for months, but have been waiting for cooler weather. Your collage could be a daylily marketing brochure … Now I'm having a craving!

Chris says:

I'm enjoying all of your comments! Sharie, I love the idea of using a counting method for daylilies

Thanks for dropping by Chris. Wish I was one of those friends receiving a daylily or two! Alison

Your Daylilies look good, as I think they should but to be quite fair they drive me to despair.

I noticed this was your second recent post about one of my favorites.
You can find a posting in my favorites bar about my favorites – daylillies with distinctive eyes. I hope you enjoy.
Search

About Us

My gardens are located in southwestern New Hampshire. Perennials are the main focus of my hobby.

Categories

Archives

Favorite Websites

Photo Gallery

Website