I joined Carolyn of This Grandmother's Garden for Autumn Walks, though I confess I strayed at times, getting sidetracked to weed and plant. And of course now is the perfect time for moving plants. 
Our Incrediball Hydrangea had to be moved for many reasons, which you really don't want to hear now.  It just had to be moved now so I could plant Giant Allium bulbs in it's place.  After much pondering, I was satisfied with the determined location of the hydrangea. 
Anyway, back to what I was saying… With the shorter days, I often found myself outside at twilight or dusk.  I had forgotten how beautiful an Autumn evening could be.  Not that I could capture that.  I could, however, capture some things.
Here is the Incrediball hydrangea at twilight.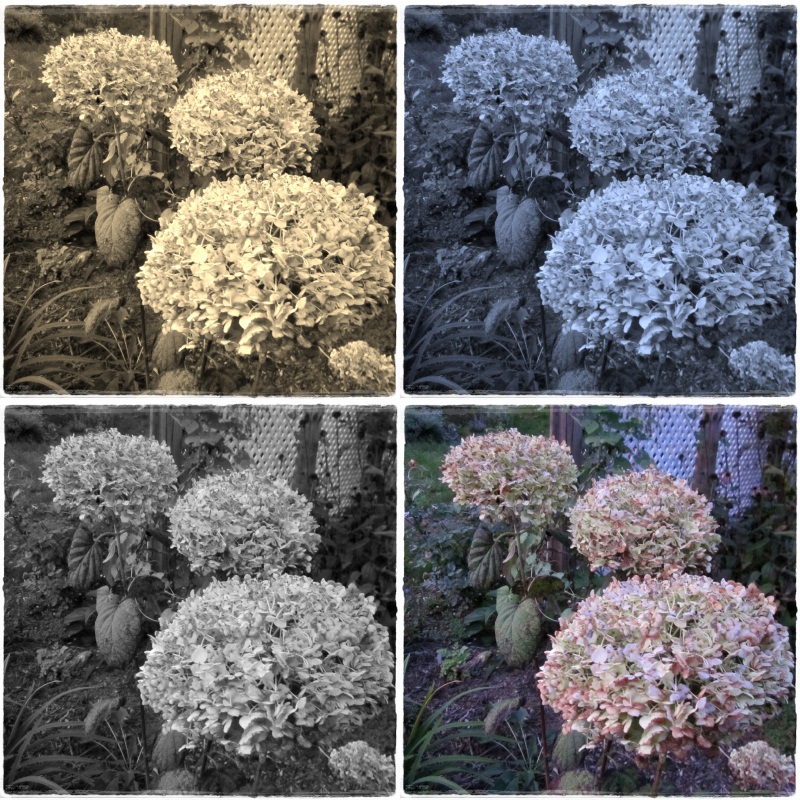 Do you like hydrangea flowers as they start to turn brown? Love them? Hate them? 
I think they have some interest…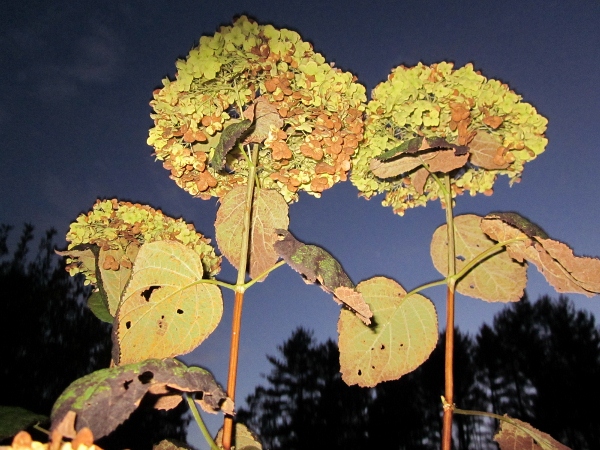 They look almost fake in this photo taken from below.
Though, I am not too crazy about my other hydrangea with it's brown flowers.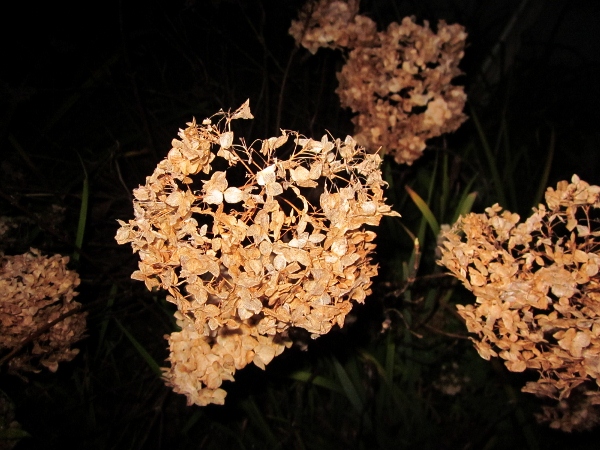 Miscanthus is incredible this time of year, and rather dramatic at night.

 Dandelion Seeds seem innocent from above…

I had no idea what was hiding underneath…surprise!
And speaking of surprises… our Four O'Clocks actually opened in the evening!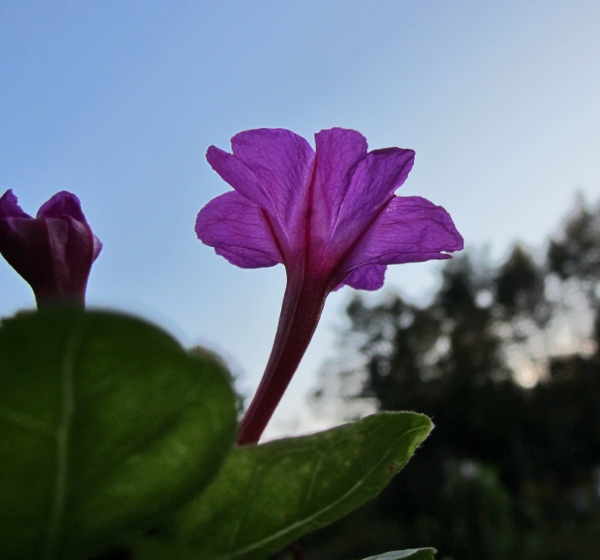 Below are Tall Phlox, Coreopsis, Sedum, Tradescantia, Tall Phlox and Northern Sea Oats at night: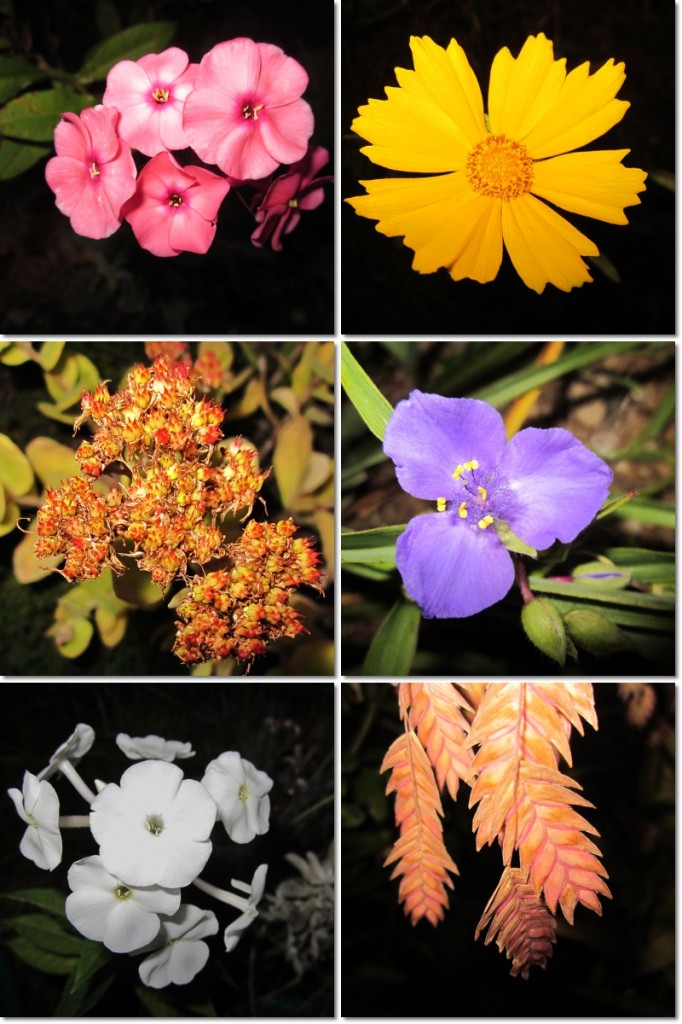 Here is a closer look at the Tradescantia: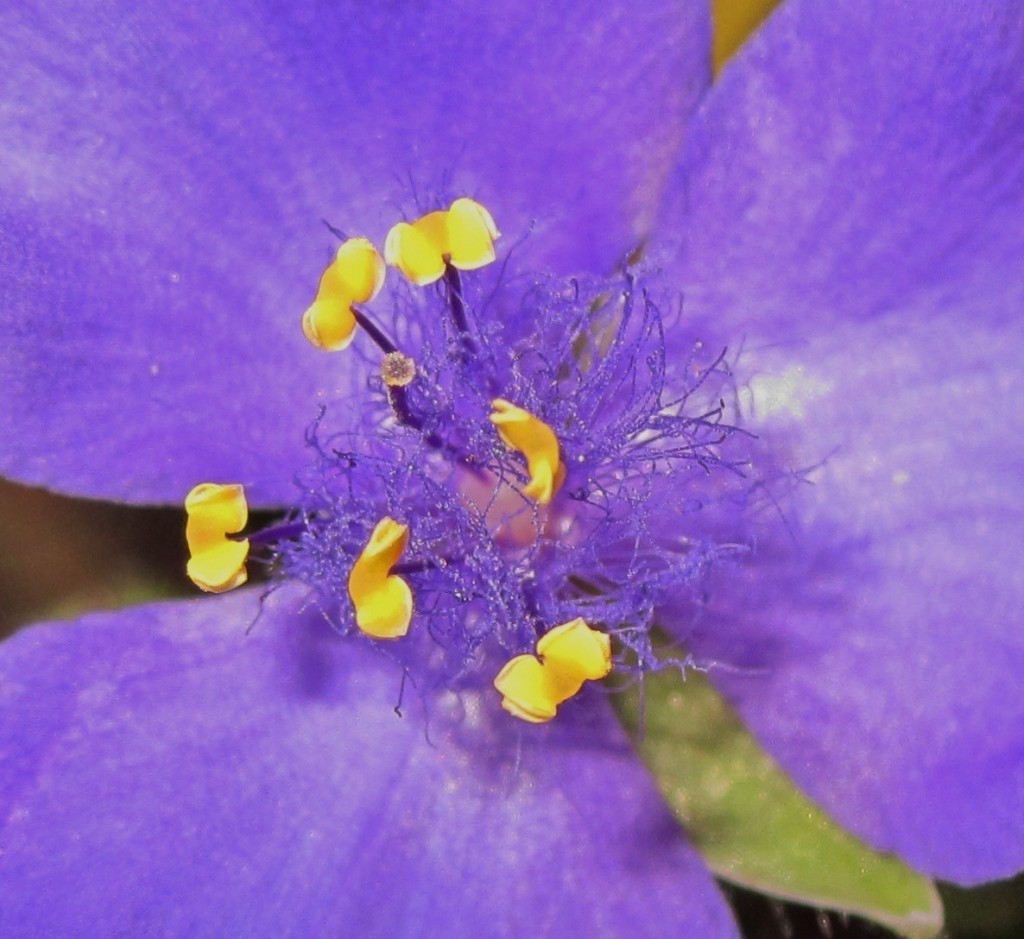 Here is a closer look at Northern Sea Oats: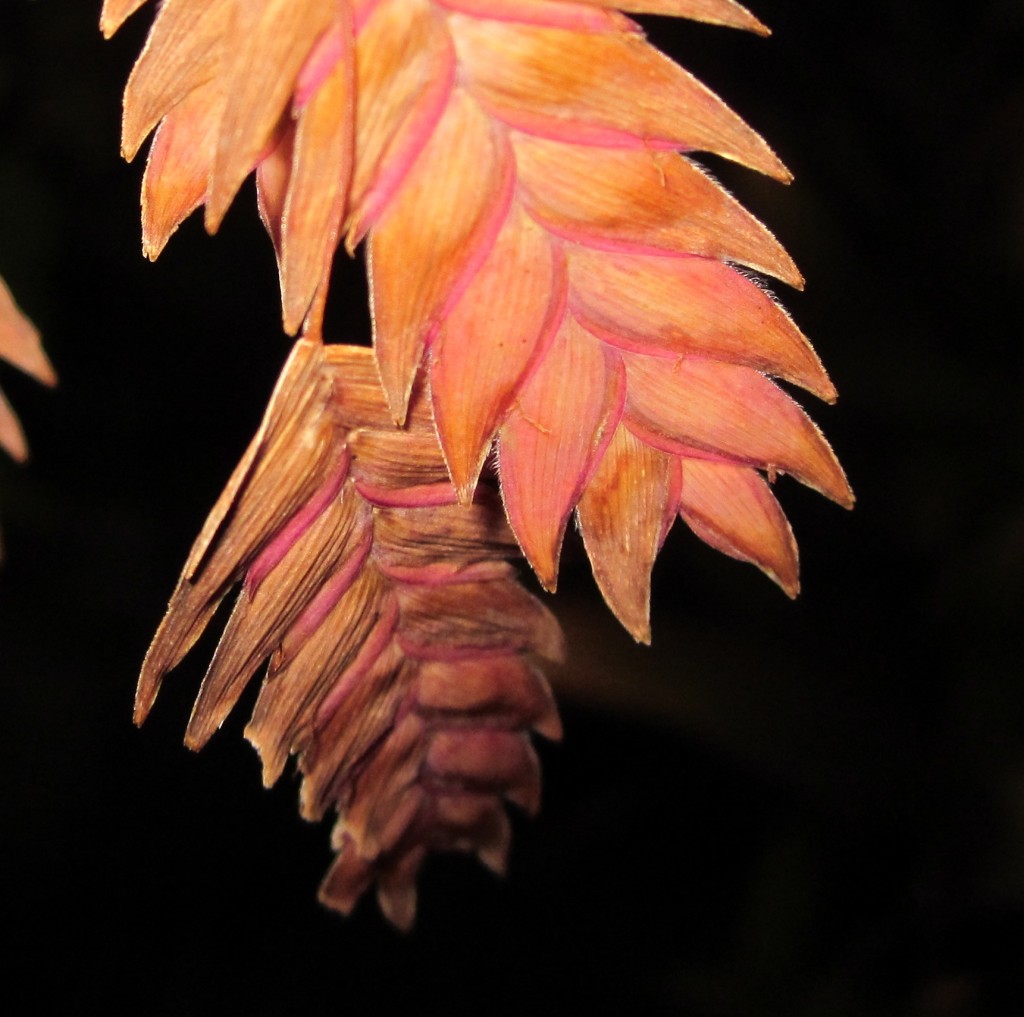 Now take a close look at this Rudbeckia: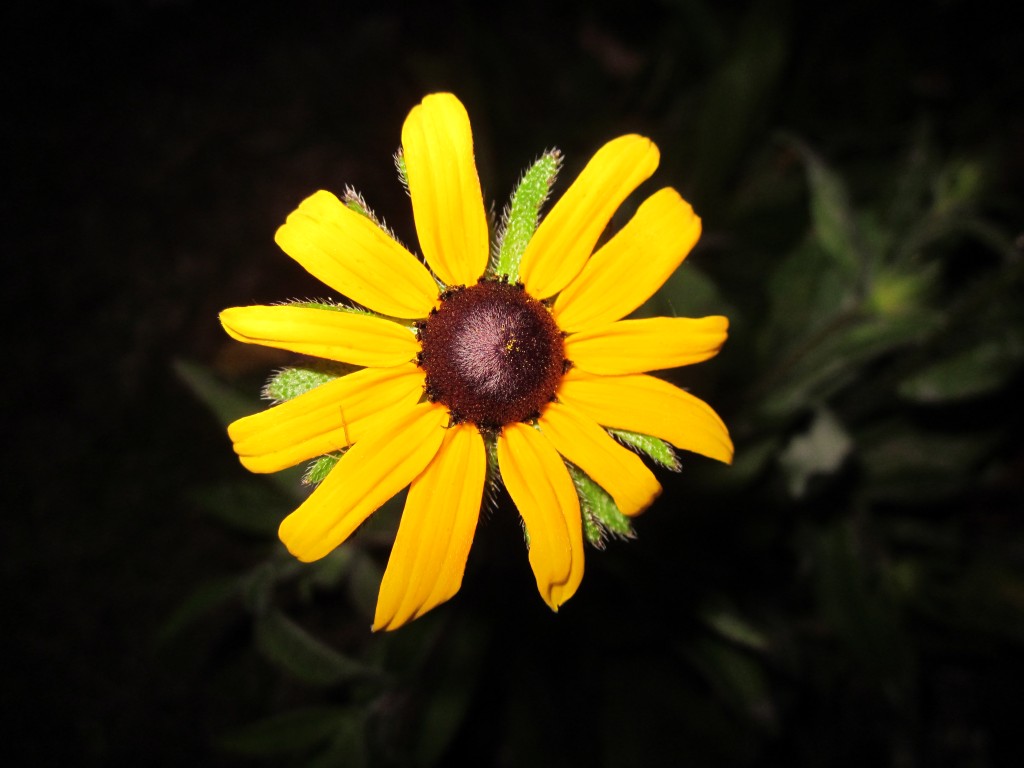 Did you see what lurks?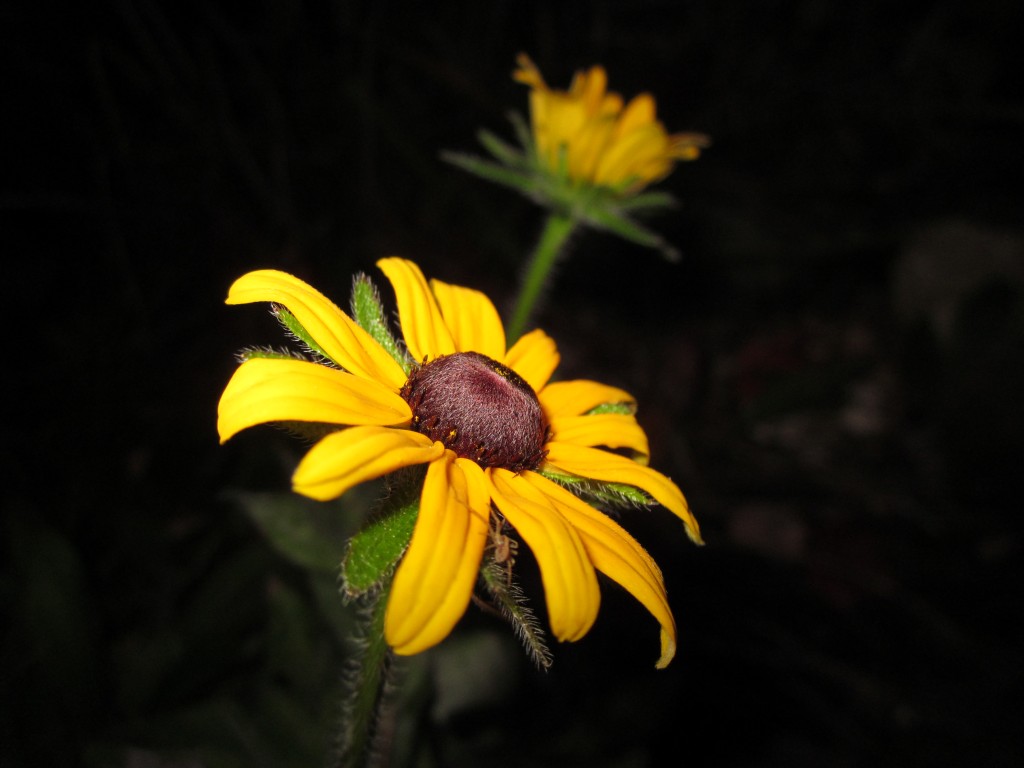 Now I could go on and on…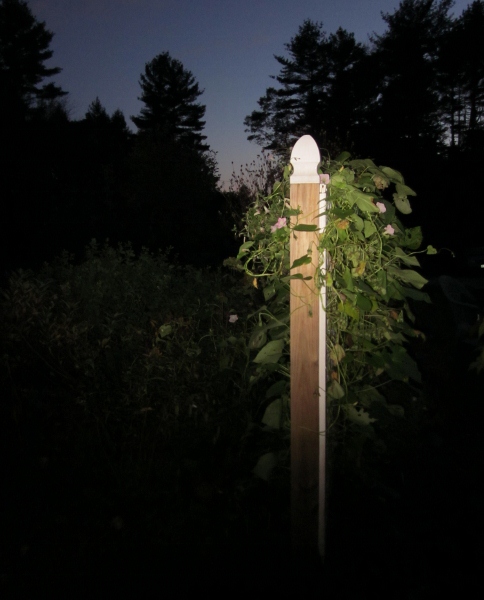 or I could just call it a night.
I have linked to Mary at The Little Red House.  She hosts Mosaic Monday.
This entry was posted on Wednesday, October 26th, 2011 at 12:51 AM and is filed under
Observations
,
Thoughts
. You can follow any responses to this entry through the
RSS 2.0
feed. Both comments and pings are currently closed.